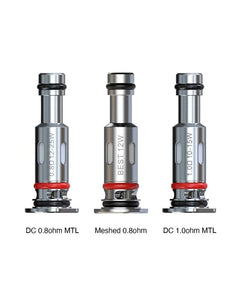 Product Description: 
The Smok Novo 4 LP1 Coils UAE are specially designed for leak-proof vaping. Each coil in this series uses 3 silicone rings to provide tightness. The LP1 series coils have: LP1 Meshed 0.8ohm Coil, LP1 DC 0.8ohm MTL Coil, and  LP1 Meshed 1.2ohm Coil.
When inserting the coil into the Smok Novo 4 Pod, the added silicone ring on the bottom of the coil would fill the gap, effectively stemming the liquid leaking from the pod that results in a messy vaping experience or dirty hand. The LP1 series Coil is compatible with Smok Novo 4 Pod Cartridge and Smok Novo 4 Pod Kit.
Features:
LP1 Meshed 0.8ohm Coil, 12-15W
LP1 DC 0.8ohm MTL Coil, 12-15W
LP1 Meshed 1.2ohm Coil, 10-15W
5PCS Per Pack
Includes:
1*LP1 Coils(5PCS/Pack)
NOTE
Product Descriptions, Specifications and/or Claims are based on information provided by the manufacturer. Information listed and provided are to be used at the sole discretion of the consumer and are not representative of analysis, testing, and verification by Seamless Vape Distro.
Seamless Vape Distro will not be held responsible or liable for any injury, damage, or defect, permanent or temporary that may be caused by the improper use of any products sold by Seamless Vape Distro
Product images are for illustrative purposes only and may vary from actual product. We do take every care to provide the closest representation of the actual product