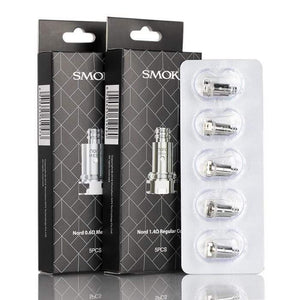 Product Description 
The SMOK NORD Replacement Coils offers a dynamic atomizer structure option for the NORD Pod System, featuring a 0.6ohm Mesh Coil, 0.8ohm Mesh-MTL, 1.4ohm Ceramic Coil, a 1.4ohm Traditional Coil.

Compatible:

SMOK NORD Pod System
SMOK NORD AIO 19 & 22 Kit
SMOK TRINITY ALPHA 25W Kit
SMOK Vape Pen NORD 19 & 22 Kit
SMOK NORD CUBE POD Starter Kit

SMOK NORD Replacement Coils Features:

Replaceable Coil Design:

0.6ohm Nord Regular DC Coils - Dual Coil Structure - 20W Recommended
0.6ohm Nord Mesh Coils - Optimized for Sub-Ohm Experience - 25W Max
0.8ohm Nord Mesh-MTL Coils - 16W Max
1.4ohm Nord Regular Coils - Optimized for MTL Experience
1.4ohm Nord Ceramic Coils - High-Temperature Resistant
NOTE
Product Descriptions, Specifications and/or Claims are based on information provided by the manufacturer. Information listed and provided are to be used at the sole discretion of the consumer and are not representative of analysis, testing, and verification by Seamless Vape Distro.
Seamless Vape Distro will not be held responsible or liable for any injury, damage, or defect, permanent or temporary that may be caused by the improper use of any products sold by Seamless Vape Distro
Product images are for illustrative purposes only and may vary from actual product. We do take every care to provide the closest representation of the actual product