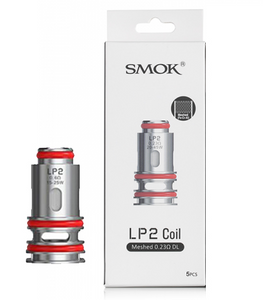 Product Description: 
 Pack of 5 genuine replacement SMOK LP2 DL (direct lung) meshed coils 0.23Ω Ohm.
Compatible with the following SMOK devices (be aware to be using the correct pod if you have more than one with your kit):
G-Priv Pod Kit
G-Priv Pro Pod Kit
Nord 50W Kit
RPM 4 Kit
Wattage range 20-45W.
The box comes with a scratch sticker so you can check the authenticity of this product.
Coils in the SMOK LP2 series:
0.23Ω Ohm - Mesh (DL direct lung sub-Ohm coil) 20-45W
0.4Ω Ohm - Mesh (best at 25W)
0.6Ω Ohm - DC dual coil (mouth-to-lung sub-Ohm coil) 15-25W