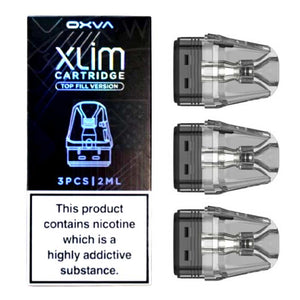 XLIM V2 CARTRIDGE is designed for OXVA XLIM Pod System Kit New color 900mah for X-treme flavor and a strong throat hit. There are two different flavor cartridges: 0.6Ω & 0.8Ω for options. 3pcs/pack.

Features:
X-TREME FLAVOR & STRONG THROAT HIT
Anti-leaking design to prevent condensation at the bottom
Side-fill ensures a quick and perfect refill.
Options
0.4Ω - (26-30w) Restricted Direct to Lung vaping, offering a strong free inhaling throat hit
0.6Ω - ( 20-25w) Restricted Direct to Lung vaping, offering a strong throat hit
0.8Ω - (12-18w) Mouth to Lung vaping, offering medium, to strong throat hit
1.2Ω - (10-12w) Mouth to Lung vaping, for a smoother, lesser throat hit