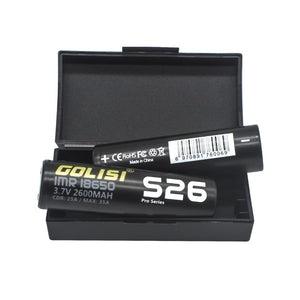 PRODUCT DESCRIPTION
Golisi G26 18650 Batteries (2 Pack)
The Golisi S26 is a high performance 18650 lithium battery with 35A high constant discharge current and 2600mAh battery capacity. Based on UL1642 standard, the S26 has safety protection of no leaking or explosion in extreme tests of over-charging, short circuit, over discharging and high temperature.
Capacity: 2600mAh
Constant Discharging Current: 25A
Power Range: 92.5W (3.7V * 25A) to 75W (3.0V *25A)
High performance: the CDC keeps at 25A even only 40% of power left
Battery Type: IMR 18650 High Drain Battery, Pro Series
Apply To: E-Cigs
Nominal Capacity: 2600mAh
Constant Current/Pulse Current: 25A / 35A
Nominal Voltage: 3.7V
Discharging Cut-off Voltage: 2.5V
Charging Cut-off Voltage: 4.20±0.05V
Internal Resistance: 20mΩ
NOTE
Product Descriptions, Specifications and/or Claims are based on information provided by the manufacturer. Information listed and provided are to be used at the sole discretion of the consumer and are not representative of analysis, testing, and verification by Seamless Vape Distro.
Seamless Vape Distro will not be held responsible or liable for any injury, damage, or defect, permanent or temporary that may be caused by the improper use of any products sold by Seamless Vape Distro
Product images are for illustrative purposes only and may vary from actual product. We do take every care to provide the closest representation of the actual product