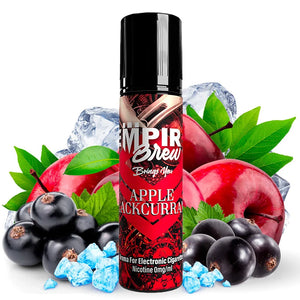 PRODUCT DESCRIPTION
Taking crisp, tart apples and combining them with earthy blackcurrants creates a refreshing and fruity blend. This e-liquid also comes with an option 2ml Chiller shot that allows you to add a menthol kick if you wish.
RATIO 
70% Vegetable Glycerine
30% Propylene Glycol (Includes Flavouring)
BOTTLE 
Chubby Gorilla Bottle with Childproof Cap 
BOTTLE SIZE 
60ml
ORIGIN
South Africa
RECOMMENDED RETAIL
R** per 60ml

Available 3mg Nicotine Strengths
NOTE
Product Descriptions, Specifications and/or Claims are based on information provided by the manufacturer. Information listed and provided are to be used at the sole discretion of the consumer and are not representative of analysis, testing, and verification by Seamless Vape Distro.
Seamless Vape Distro will not be held responsible or liable for any injury, damage, or defect, permanent or temporary that may be caused by the improper use of any products sold by Seamless Vape Distro
Product images are for illustrative purposes only and may vary from actual product. We do take every care to provide the closest representation of the actual product